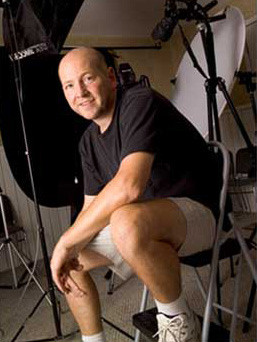 Photography has been a passion for as long as Rob Kaufman can remember. Like many photography professionals who started out in the "good old days" of film, his first camera was an old Pentax K-1000. There was something magical about being able to envision an image and then make it come to life with the proper combination of aperture, exposure and a photographic eye. Rob's interest in the visual arts followed him to Michigan State University, where he graduated in 1992 with a B.A. in advertising.

Shortly after graduating, Rob traded the weary winters of Michigan for the sunny shores of Hilton Head Island. His photography skills were quickly recognized by area publications. It wasn't long after that he was shooting for clients all over the Southeast, and even farther afield.

Kaufman Photography's Current and Past Clients Include:

Advertising/Marketing/PR Agencies
Anderson Communications - Hilton Head, SC
BFG Communications- Bluffton, SC
Brighton Beach Advertising - Bluffton, SC
Chernoff-Silver CNSG - Hilton Head, SC
Cox Advertising & PR - Savannah, GA
Spirer Communications - Hilton Head, SC
World Design Marketing - Hilton Head, SC
Corporations/Companies City of Hardeeville, SC
Cuisine Media/International Connoisseur - Myrtle Beach, SC
Closet Specialist - Bluffton, SC
Daimler Chrysler Services - Detroit, MI
Frey Media - Hilton Head, SC
Hilton Head Island/Bluffton Chamber of Commerce - Hilton Head, SC
The MCI Heritage, PGA Tour Event - Hilton Head, SC
Specialized Carrier & Rigging Association - Washington, DC
Sea Pines Real Estate Co. - Hilton Head, SC
Southeastern Restaurant & Entertainment Group - Hilton Head, SC
Woolrich Clothing Co. - Woolrich, PA
WTOC-TV - Savannah, GA

Resorts/Developments/Builders
Adventure Inn Villa Rentals - Hilton Head, SC
Belfair Plantation - Bluffton, SC
Berkeley Hall - Bluffton, SC
Fraser Construction Co. - Bluffton, SC
Greenwood Development Corp. - Greenwood, SC
Hampton Hall, (Toll Brothers Development) - Bluffton, SC
Oldfield/Crescent Resources - Okatie, SC
Palatial Homes - Hilton Head, SC
Palmetto Bluff/Crescent Resources - Bluffton, SC
RMC Property Management - Hilton Head, SC
Resort Quest - Hilton Head, SC
Sea Pines Resort - Hilton Head, SC
Sunset Rentals - Hilton Head, SC
The Tilton Group Builders - Bluffton, SC

Artists/Musicians/Art Galleries
Arts Center of Coastal Carolina - Hilton Head, SC
Calhoun Street Art Gallery - Bluffton SC
Glenna Goodacre, sculptor - Sante Fe, NM
John Jakes, author - Hilton Head, SC
John Maxim, author - Hilton Head, SC
Kim Davies, author - Atlanta, GA
Marlena Smalls and the Hallelujah Singers, musicians - Beaufort, SC
Michelle Murray, singer - Hilton Head, SC
Morris & Whiteside Art Galleries - Hilton Head, SC
Red Piano Art Gallery - Hilton Head, SC
Scottsdale Art Auction - Scottsdale, AZ
South Carolina Watercolor Society - Columbia, SC
The Gallery - Beaufort, SC

Published Work
American Art Collector
American College of Physicians Observer
Atlanta Homes & Lifestyles
Carolina Homes & Interiors
Charleston Fine Dining
Charleston Weddings
Closets Magazine
Country Inns
Diversions - For Physicians at Leisure
Food Arts
Financial Planning Magazine
Golfer's Guide
Golf Life
Golf Magazine
Guideposts
Hilton Head Monthly
Island Real Estate Magazine
Links Magazine
Lowcountry Monthly
Low Country Home
Millionaire
SCORE
Smoke
Successful Meetings
People

...and countless Brides & Grooms, as well as families, returning year after year to document their lives on this gorgeous paradise we call Hilton Head Island.

Rob feels very fortunate - not only to have established a successful career as a commercial photographer on Hilton Head Island, but to have established a family as well. When not traveling the country shooting commercial photography jobs or destination weddings, Rob spends much of his time with his wife, Samantha, daughter, T.C., and son, Brodie. Of course, their two Australian Shepherds, Skye and Merlin, are usually in tow as well. Together, they enjoy traveling to the North Carolina mountains or simply grilling out and enjoying the view off of their back porch. Samantha is often found along side Rob shooting lowcountry weddings and Hilton Head Island family beach portraits so that she may create animated slideshows for families to enjoy. A busy commercial photography schedule doesn't leave Rob much free time. However, when he can, Rob likes to golf, coach Brodie on his baseball teams, take to the kitchen as the family chef and tend to his biggest hobby - his backyard herb garden.

Although he retired that Pentax K-1000 long ago and now shoots with the latest Nikon digital SLR equipment, he has never lost touch with the magic involved with creating enduring images and the importance of really enjoying what you do.